Last week was "metal week" at AST Exhibits. No, we weren't blasting Motörhead in the shop or wearing spandex and leather. To be honest it really wasn't even all that heavy. In fact, it was aluminum.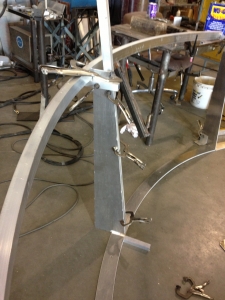 Two weeks ago we started work on the custom aluminum railing for the South Florida Science Museum's Science on a Sphere exhibit. Last week the railing was clamped together and assembled for the first time. Most museums settle for an off the shelf commercial railing or a cheap stanchion setup. This railing was designed by Anthony Lualdi Design specifically for this exhibit and is quite stunning. According to Rob, our metal shop foreman, it was receiving compliments from other clients and visitors to the metal shop before it was even welded together.
For the latest SFSM Project progress report, click on the button below.