Prologue
Like every good story, ours begins simply.
It was always difficult to describe what we did for a living — one day we were carpenters, the next we were painters. Some days we were performers, others we designed lights. We had each fallen in love with the stage, but we didn't harbor dreams of starring roles like a lot of people. Our passion was in building the stage itself. We loved to create vivid experiences where people could immerse themselves in a great story. It would take many years more for us to realize the gift we had been given — we were storytellers!
The action unfolded quickly and before we knew it we were several chapters in. Then recently we couldn't shake the feeling that something was missing. We started to dig deeper.
A Title That Promises A Good Read
Advanced Staging Technologies is now AST Exhibits, driven to see "No Story Left Untold". Our motto is really important to us because you have some incredible stories about people and events that shaped history. Your stories matter. Your stories must be told, and told well.
A Cover That Supports The Story Within
We needed a symbol that was complex enough to embody everything you know, everything we know and all we are capable of accomplishing together – yet simple enough to make an elegant crest.
Researching great storytellers, teachers and designers led us to ancient Greece. One artifact was particularly intriguing, so we pursued it. We were delighted to discover that it has a history of more than 2000 years of active use across nearly every continent, culture, social class and profession. Like a museum, it is not limited to a particular historical period or geographical location, and just as AST Exhibits offers a broad range of services, its versatility also extends to a variety of materials and budgets. Children made it with paper for their studies, laborers made it out of wood and the finest specimens of it were crafted from precious metals by master craftsmen. A single device with more than 1000 uses, it is capable of telling a story all on its own:
He would not only know what time it was, he would also know where the sun would rise, and how it would move across the sky. He would know what time the sun would rise, and what time it would set – and he would know that for essentially every celestial object in the heavens…Knowing your relationship with the sky is the center of the real answer to knowing what time it is…Astrolabes return us to this subtle sense of how things all fit together, and also how we connect to the world.[quotecred]Tom Wujec[/quotecred]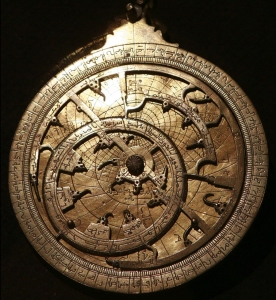 The astrolabe symbolizes the marriage of our expert craftsmanship, design and project management with the passion you bring to your work. It is a symbol of our devotion not only to the budget and the deadline, but also to the magic of the story that breathes life into the experience of each exhibit. The triangle surrounding it symbolizes our promise to you – extraordinary creativity and talent, success, stability in a strong foundation and the triadic relationship of past, present and future. We are proud to offer this meaningful mark as a reminder of our core values in working with you.
Everything You Need For The Next Chapter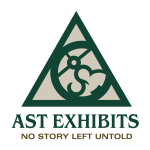 We still get excited about the build and we still look for ways to help our customers get the best possible results for their timetable and budget. AST has been in business since 1993 and we have solid relationships with the most talented artists and experienced craftspeople in the industry. We carefully match your ideas with a designer who shares your vision. Then, we bring in expert artists and craftspeople that mirror your enthusiasm for your project. Your project will be managed from start to finish by someone who recognizes the importance of the story you have to tell.
Our way of doing business ensures that your team is simply the best team for your project and that our focus stays right where it should be – on you and your exhibit.
Contact Us to start telling your story.