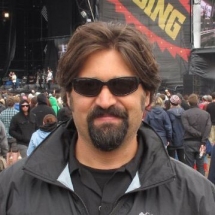 Michael grew up surfing the beaches of South New Jersey and learning the family trade – theater, both on and off stage. He met Scott in 1989 working in the FSU theater scene shop, and they worked together on some of the same film and television projects in the early 90s in Florida. Michael's path led him into the entertainment scene, first with House of Blues in Orlando, Las Vegas and Atlantic City, and then with touring acts like Paramore. He's known for his technical abilities and personable leadership style, and we are fortunate that good timing and a long-running friendship has brought him to AST Exhibits.
Michael is one of those rare individuals who is good with both numbers and people, and he is patient and approachable when working with customers, employees and managers alike. He's got a lot of experience with helping people to find ways to maximize their project budgets and increase their revenues, and he's used to keeping track of a lot of seemingly small transactions that add up to a lot for his customers. He knows that every one of your dollars is important to you and to the bottom line, and no one will work harder to make your project a success. You will notice the difference, and so will your customers.
---
We come from diverse backgrounds, but our focus is the same – we want to hear your story! Ready to get started?