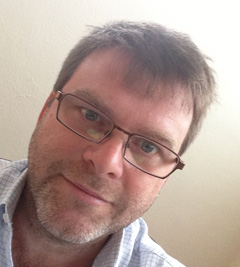 For the past 25 years, I've dedicated myself to telling stories and creating visual interpretations that entertain, educate and inform communities. I believe my job is to foster a connection between people and objects, to enable objects to tell the stories of their time and place, to unravel their secrets. This is what strengthens storytelling and creates deeper, more meaningful relationships between the objects and the people who view them.
I am at a point in my career where I have nothing left to prove. Time and again, I have demonstrated my skill and ability to consistently deliver superior work in any environment. The truth is, I am no longer interested in simply producing good work. My goal now is to produce great work.
Part of that goal means simultaneously managing the big picture and the details of each project, and leading a team of skilled artists and craftsmen toward the final result. My job is to help these talented, creative people to do their best work.
I look at everything we do — from the first contact with a client, to our email communication, to delivery of the product and beyond — to ensure we are not only doing the best we can, but also ensuring there is a plan to improve what is already working well.
I take pride in the fact that you can look my finished products from any vantage point, and it looks as good as it does from the front.
I also am proud of my installation crew; they are the best, cleanest, and most organized in the business. I encourage my clients to drop by any time because I am confident they will find a good plan being executed well in a clean environment by amazing individuals.
I began my career working in film and television for clients such as Nickelodeon Studios, Imax Corporation and Universal Studios. I worked my way through many themed entertainment projects for clients, including Busch Gardens, Hard Rock Cafe, and Viacom. I have built or designed and built live shows for clients like Creed, Barbara Mandrell, BET, and Purdue Musical Organizations.
Now, I design and build museums exhibits such as those at the Naples Depot Museum, the South Florida Science Museum, St. Thomas University Library, and the Marco Island Historical Museum. Through it all, I've worked hard to make AST Exhibits a company I can be proud of.
I am dedicated to this business because I honestly love museums. They are institutions that serve their communities by teaching, preserving and inspiring future generations.
I see my commitment to excellence as a way to reach into the future, to tell stories of the past that can inform and shape the future. I am proud that the work AST Exhibits is doing for museums across the country will serve those communities for decades to come.
My primary objective is to be of service, provide an exemplary product and tell the stories that will endure.
I want to hear your story! Are you ready to get started?