It's been a busy start to 2013 at AST Exhibits as we roll into the construction phase of the South Florida Science Museum project. Early last week Marc LeFrance joined the AST team as Lead Exhibit Carpenter for the SFSM project. Marc has an extensive background in all aspects of exhibit construction. His recent work includes exhibits for the Naples Depot Museum, Kennedy Space Center and the Astronaut Hall of Fame.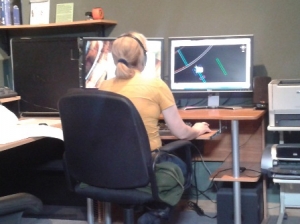 Sherry is hard at work turning Anthony Lualdi's exquisite design into a detailed set of construction drawings.  Her drawings are being approved almost as quickly as they are completed and our shop is now buzzing with activity.
We are excited to be a part of this project and look forward to whatever 2013 has in store for AST Exhibits.
For a detailed progress report on the South Florida Science Museum project, click on the SFSM logo below: